Question
When I check what was recorded in monaural, it was recorded only in stereo 1ch (Lch). Also, there is audio that was recorded incorrectly on the left and right. Is there a way to convert mono audio to stereo or swap the left and right channels?
Answer
Use Stereo Fixer to record with a monaural microphone and convert stereo 1ch (Lch) audio to stereo, or to mix stereo 1ch (Lch) and 2ch (Rch) to monaural. is best.
As will be described later, the method of converting tracks that are often seen on the Internet to Mono requires a track dedicated to Mono, but with Stereo Fixer, it can be set for each clip, so it can be set in the stereo track You can arrange the target clips in . (It is officially recommended to use Stereo Fixer.)
"Stereo Fixer" is located in "Effects" - [Audio FX]-[FairlightFX], and can be set by dragging it to the target track or clip on the audio timeline.
Stereo No change.
Reverse Stereo Swap left and right stereo

mixes 1ch (Lch) and 2ch (Rch) of equalized
Left Only Use only the left side of the stereo,
record with monaural microphones output to both the left and right sides, and convert the audio from stereo 1ch (Lch) to stereo.
Right Only Output to both left and right, using only the right side of the stereo
Mid-side L output is the L input minus the R input. Also, the R output is the L input plus the R input. (This description, in the 17 official Japanese reference manual, is subtracted from both, but correctly, R is added.)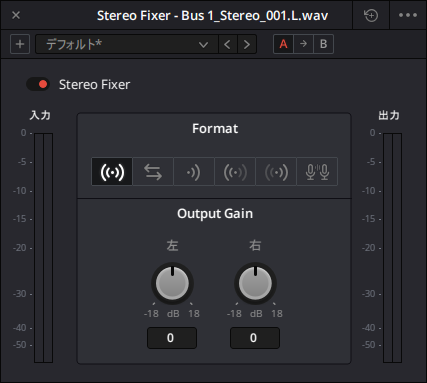 How to use Mono's tracks for audio that only comes from the left side
This is the most common method found on the internet. You can get similar results with Stereo Fixer using Mono tracks.
Right-click on the track header of the track on the Fairlight page, and select "Mono" from [Change Track Type].
By default, stereo 1ch (Lch) is used. For reference, additional settings are required when using other channels such as 2ch (Rch). Select from "Source channel" of "Audio" of the clip attribute.