Question
Is the processing speed of the M1 mac faster than that of a Windows PC?
Answer
In response to this question, which is frequently raised on SNS, on October 22, 2021, when DaVinci Resolve 17.4 was released, official information was released comparing DaVinci Resolve 17.3.2 with M1 mac that is not Pro or MAX.
I will explain with references. Also, "the comparison" has reviewed the new MacBook Pro (M1 Max/Pro) on 10/27.
For details, please check here.
Conclusion
This is the conclusion on using DaVinci Resolve.
the
M1 MAX was shipped. I apologize for mentioning that. Without more detailed information, it is difficult to make a definite evaluation, but it seems safe to say that the RTX3060 has exceeded it.

I will write the conclusion, but first excuse me.
Since the OS is different and sufficient verification has not been done, I am worried about whether the current information can be used only as a cormorant.
I think there may be some objections when I summarize the current information safely, but I think that it is generally as follows. Of course, what about when you're comparing laptops? I am aware that there is an opinion that
M1
"Fastest Mac ever".
Cost performance is very good compared to Windows laptops that can edit videos. The same level of performance as a Windows desktop PC equipped with a middle-range graphic board can be specified.
As a GPU, it is about the GTX1080 released in 2015, but it has sufficient performance.

From the Windows desktop PC equipped with the
M1 Pro it is close to the RTX3060 as a performance GPU close to high-end gaming notebook PCs.
M1 MAX
is well beyond the performance of GPUs purchased by the general public.
RTX 3060/3070 At least the same level as a Windows desktop PC with a mid-range to high-end graphic board,
there is no problem at present.
It is very surprising that such performance is realized in a notebook PC. Anything comparable to this on a Windows laptop will be pretty expensive.
As mentioned in the official consideration, for Windows, "NVIDIA GPU with VRAM 8GB or more", "If you want to use H.264, it is important to use the paid version", and "NVIDIA GPU with VRAM 8GB or more". The M1 Mac's cost performance shines because there are almost no Windows laptops, and even if there is, it is expensive.
DaVinci Resolve 17.4 has been optimized for M1 Mac as follows. I would like to expect a report including M1 MAX in 17.4.
DaVinci Resolve 17.4 decodes 12K Blackmagic RAW files more than 3x faster and renders H.265 1.5x faster. DaVinci Neural Engine performance is up to 4x faster in real-time facial recognition, object detection and smart reframing! ProMotion 120Hz display support for incredibly smooth playback and editing, and the new Apple MacBook HDR display with HDR viewer support.

https://www.blackmagicdesign.com/jp/media/release/20211022-01
The reason why the M1 Mac can process as fast as the NVIDIA RTX series
I will describe the story limited to DaVinci Resolve.
DaVinci Resolve has long been optimized for the API "Metal" that can be used with AMD Radeon, and in environments where Metal can be used, it has been designed to deliver performance that exceeds NVIDIA's CUDA.
(Blackmagic Design's Dialogue) However, in Windows, the use of "Metal" is restricted, and as a result, NVIDIA is used as the GPU with the best performance.
Macs do not have this limitation, so even in the so-called Intel Mac era, those with Radeon GPUs have achieved performance that exceeds NVIDIA's PCs.
Metal is also compatible with the M1 Mac, and I think it's good to think that it has great performance, partly because of the good performance of Apple silicon.
"the comparison" result
The version of DaVinci Resolve has been confirmed by "The Comparison" as follows.
The top four in the graph, "Apple M1 MAX", "RTX 3060", "RTX 3050 Ti", "RTX 3070" and "Apple M1 Pro" are 17.4
"Apple M1" is 17.1 Beta just before native support announcement
other versions unknown
Apple silicon had native support in 17.1 and significant optimizations in 17.3.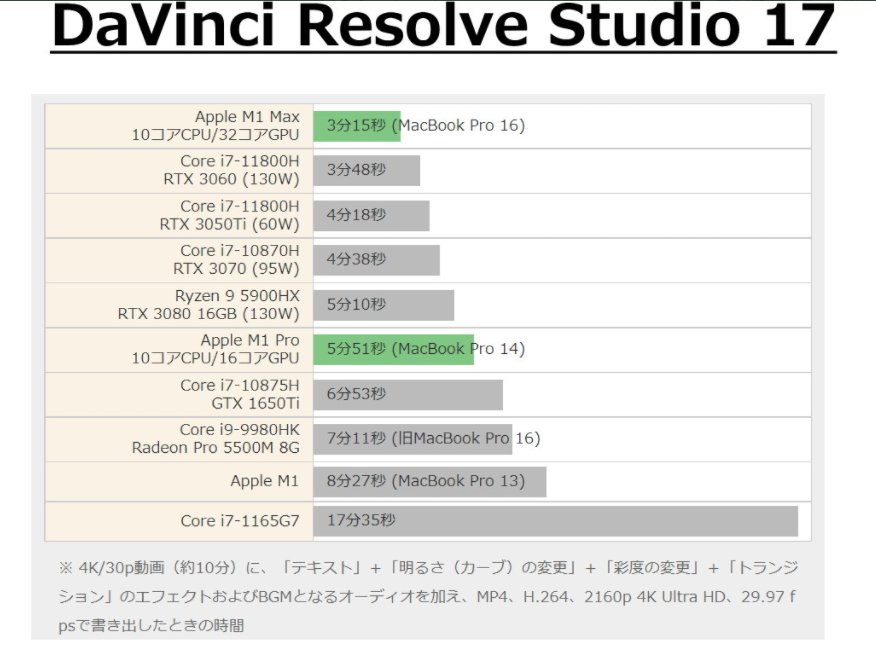 official comparison
[Caution] Although it is also described in the official article referenced, it was optimized for M1 in DaVinci Resolve 17.4, so please consider it as a reference.
version
DaVinci Resolve Studio 17.3.2
Comparison PC
M1 MacBook Air (2020) Memory: 16GB
Intel MacBook Pro 13 inch
CPU: Intel Core i5 1.4GHz 4core
Memory: 8GB
GPU: Intel UHD Graphics 645
Intel MacBook Pro 15"
CPU: Intel Core i7 2.2GHz 6core
Memory: 16GB
GPU: AMD Radeon Pro 555X 4GB/Intel UHD Graphics 630
Manufacturer unknown Windows PC
CPU: Intel Intel Core i7 6900K 3.20GHz 8core
Memory: 24GB
GPU: NVIDIA GeForce GTX 1080 8GB
Verification details
For the following 10 points, the frame rate and the maximum smoothness when processed with 3 types of original materials "H.264", "ProRes422", and "Blackmagic Raw (also shot with Pocket Cinema Camera 4K)" I'm doubling speed.
Playback on cut page and edit page
Fast forward and rewind on cut page and edit page
Overlay Fusion title "Text Box Swipe In"
Play on color page
Apply 'Glow' Resolve FX in the Color page
Apply noise reduction (temporal, speed priority, 2 frames, threshold 100) on the color page
Export to H.264 HD
Export to H.264 4K
Export to ProRes 422 HD
Export to ProRes 422 4K
result
The table is a reference.
Only numbers are fps.
Higher numbers are faster. "x (number)" is the one that was played smoothly up to that double speed. Higher numbers are faster.



... from what I've seen, the M1 Mac isn't as fast as I had hoped. (Are we expecting too much?)