Question
I learned that you can save in DaVinci Resolve's project file format (drp) with the function of recording on the main unit of the ATEM Mini series, and edit it on DaVinci Resolve. There are multiple ATEM Mini series and I'm not sure which one to buy. Do you have any information?
Answer
DaVinci Resolve's project file format (drp) is supported by two models, "ATEM Mini Pro ISO" and "ATEM Mini Extreme ISO", which can save recordings of each input source to an SSD attached to ATEM Mini.
You can connect the saved SSD to your PC and open it with "Load Project" in DaVinci Resolve.
You can perform the same operations as when editing with DaVinci Resolve, such as changing the layout during recording and switching the source (clip) to be used.
The ATEM Mini series is very popular and information is posted on many sites, but it is difficult to judge without information from biased content and multiple sites. It was an impression that there was not enough information for comparison. In order to solve this problem, I have compiled all the information necessary for comparison into a PDF.
refer
here (Revised 2021/10/05) very detailed, so I think A3 landscape is good for printing. (Sorry for not checking.)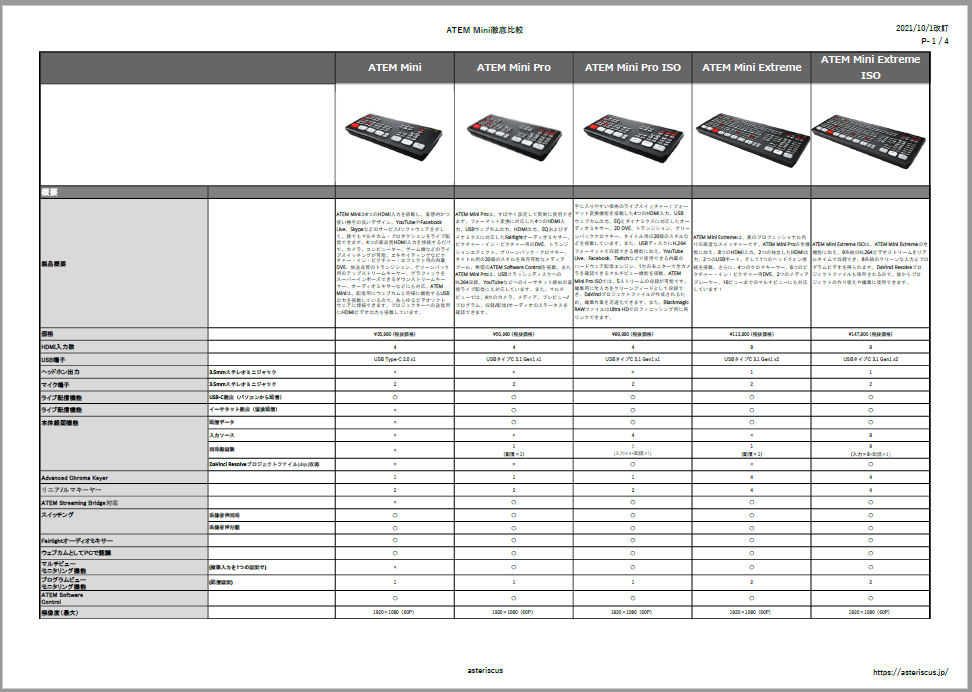 The PDF contains quite a bit of information, but I think the content in the "Summary" is enough to compare the products.
| | | |
| --- | --- | --- |
| ATEM Mini | ATEM Mini Pro | ATEM Mini Pro ISO |
| | | |
| | |
| --- | --- |
| ATEM Mini Extreme | ATEM Mini Extreme ISO |
| | |