Question
What are the new features in DaVinci Resolve 18.6 released on September 15, 2023?
Answer
Now available from the support site.
Focus
Although 18.5 → 18.6 is a minor version upgrade at first glance, it includes many functional enhancements that are comparable to major version upgrades.
About DaVinci Resolve Studio 18.6
Notes before installation
In DaVinci Resolve 18.6, we made the project library compatible with DaVinci Resolve 18.1.4. This made the project library accessible in 18.1.4 as well, but individual projects created or opened in 18.6 are no longer accessible in 18.1.4.
We recommend a full backup of the project library and an individual backup of the project before opening the project in 18.6.
Main function
New Blackmagic Camera cloud workflow syncs captures to cloud projects
Supports Blackmagic Cloud Storage for syncing project media and files
Automatic generation of proxy and upload to Blackmagic Cloud Storage
Supports outer text strokes in titles and subtitles
Ability to assign and apply your favorite keywords to clips and markers
Support for Fusion USD scenes including materials and volumes
Import multiple mono audio files with suffixes as multichannel clips
Support for target audio loudness standards when rendering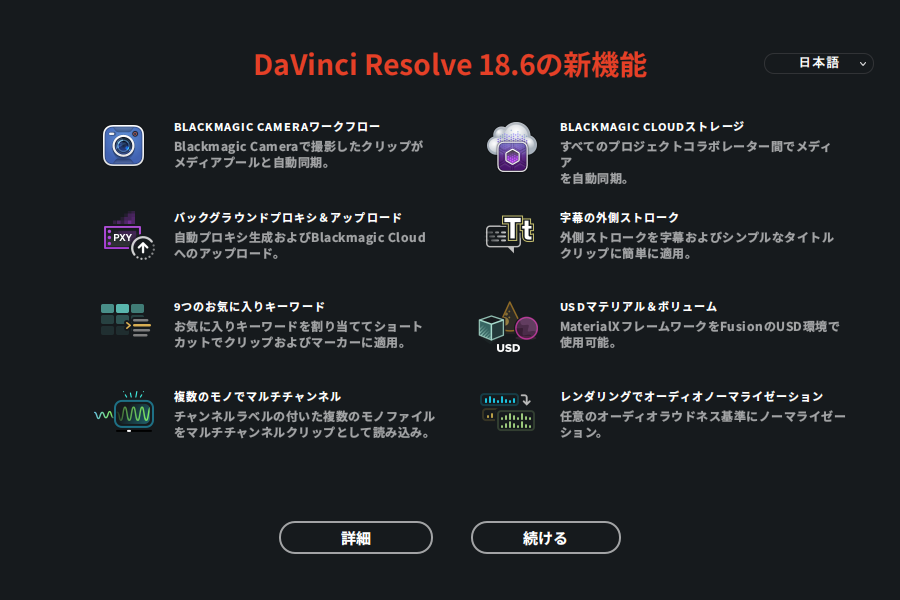 cut and edit
Selected sync bin clips can now be edited in the inspector
Support for trimming gaps during editing with Speed ​​Editor and Editor Keyboard
Added project and timeline interlacing options for editing at frame or field boundaries
Supports uppercase and lowercase letters in subtitles
Supports border around text in title and subtitle
Added copy and paste functionality for markers in source viewer and timeline
Added the ability to select multiple clips and change their speed at once from the dialog and inspector.
Adding effects to a clip now switches the Inspector to the Effects tab.
Added option to select material resolution when rendering and performing replacement
Improved playhead position to be restored when undoing an editing operation
Added option to show timecode toolbar in Edit Viewer
Show marker clip extents in source viewer
Added the ability to set actions to switch recently viewed clips and timelines in the viewer
Supports keyboard customization for context actions on multiple tracks
Supports the ability to reformat multiple selected timelines
Supports the ability to assign and apply your favorite keywords to clips and markers
Improved the ability to display both curves in the retime curve context menu.
Fusion
Supports extrusion and chamfering of 3D shapes
Supports polygon shape tools
Supports rendering of USD scenes containing materials and volumes
Supports the ability to replace materials with imported MaterialX files
Supports imported camera and light changes
Improved USD toolset including uVisibility and uVariant
Improved USD loader with support for trim, loop, and reverse
New scene tree dialog for object selection in USD
Added context menu option to reset tool trim in node view and keyframe view
Added DaVinci Intermediate conversion option for Fusion tools
Color
Supports Dolby Vision CM 4.0 L1 analysis and user-selected filtering
Support for stereoscopic 3D with Dolby Vision workflow
Supports option to bypass input color management for RAW clips in RCM
Supports audio monitoring in Resolve Live mode
Added new option to export only .drx files when exporting still images
Supports new default smart filter for clips in current group
Added configurable action to toggle recently viewed timelines in viewer
Added ability to create smart filters with custom PAR values
Supports ACES DCTL ODT output color space tags
Improved controls to toggle wipe mode from advanced panels
Improved all keyframe modes, color modes, and size modes to persist across sessions
Fairlight
Multiple mono audio files with suffix can now be imported as multichannel clips
Added ability to select target audio loudness standard when rendering
You can now select the loudness standard for YouTube and Disney workflows
Added new Fairlight FX loudness meter that can monitor multiple busses
Supports a function to intelligently abbreviate long channel names
Supports panning presets for 3D audio height control
Supports up to 3 parallel bus sends and outputs per bus style
Supports autosafe and autooff on multiple trucks or buses
Manage audio FX for multiple tracks or buses with keyboard shortcuts
Supports keyboard customization for multiple track context actions
Supports UWA Audio Vivid 3D spatial audio format
Added support for assigning default settings for Fairlight FX from the context menu of the effects dialog.
General
Accelerate Neural Engine performance by up to 2x with Nvidia TensorRT
Accelerate Neural Engine performance by up to 4x with the latest AMD GPUs
Added ability to access Blackmagic Cloud services using HTTPS proxy
Improved quick access to recent projects from the application menu
Changed to detect and loop if a range exists during loop playback
Supports import/export of rendering presets and data burn presets using script API
Script API supports still loading and power grade listing
Supports Resolve color management on a timeline basis using script API
General performance and stability improvements
Media and codecs
Compatible with Blackmagic RAW SDK 3.4
Compatible with RED SDK 8.4.0
Supports Apple Log video format
Supports Sony XAVC H and XAVC HS clip decoding function
Added ability to delete unused media from projects
New media pool column and smart bin filter for transcription status
Added the ability to right-click to add media pool timelines to the render queue with presets.
Added the ability to import/export power bins as .drb files.
Added the ability to import and export rendering presets
Supports loading multiple XML, AAF, FCP XML, and EDL as one action
Final Cut Pro v1.11 Supports XML import and export
Support for encoding interlaced formats as uncompressed QuickTime clips
Accelerate H.265 interlaced encoding on modern Windows Intel systems
Supports option to render individual clips with full media extents
Supports low-latency AAC format decoding on Mac
Supports GIF clip decoding
Supports lens and vignette metadata for Nikon raw clips
Mac OS minimum system requirements
macOS 12 Monterey
8 GB system memory.
Blackmagic Design Desktop Video version 12.0 or later
when using Fusion Integrated or discrete GPU with minimum 2 GB VRAM.
A GPU that supports Metal or OpenCL 1.2.

Windows minimum system requirements
Windows 10 Creators Update.
16 GB system memory.
Blackmagic Design Desktop Video 10.4.1 or later
when using Fusion Integrated or discrete GPU with 2 GB or more VRAM GPU
supporting OpenCL 1.2 or CUDA 11
– as required by GPU

Linux minimum system requirements
Rocky Linux 8.6 or CentOS 7.3
32 GB of system memory
Blackmagic Design Desktop Video 10.4.1 or later
Discrete GPU with at least 2 GB of VRAM GPU
that supports OpenCL 1.2 or CUDA 11
– as required by GPU
How to install DaVinci Resolve software on Mac
Double-click the DaVinci Resolve Installer icon and follow the on-screen instructions. Double-click the Uninstall Resolve icon to remove DaVinci Resolve from your system.
How to install DaVinci Resolve software on Windows
Double-click the DaVinci Resolve installer icon and follow the on-screen instructions. To remove DaVinci Resolve from your system, select DaVinci Resolve in the Programs and Features control panel, click Uninstall, and follow the on-screen instructions.
Migrating Legacy Fairlight Projects to DaVinci Resolve on Windows
To import legacy Fairlight DR2 projects into DaVinci Resolve, download and install the following utility on your Windows system. downloads.blackmagicdesign.com/DaVinciResolve/Fairlight-Project-Importer.zip After installing the utility, you will see an "Import Fairlight Project" option in DaVinci Resolve's Fairlight menu.
Installing DaVinci Resolve software on Linux
Double-click the DaVinci Resolve installer and follow the on-screen instructions. To remove DaVinci Resolve from your system, select the uninstall option after running the installer.
Additional Information
For support details, including certified driver versions for third-party hardware, please refer to the latest DaVinci Resolve Configuration Guide for your platform. www.blackmagicdesign.com/support.
You will also need to download and install the latest Blackmagic Design Desktop Video software for monitoring with Blackmagic Design video hardware. Desktop Video at www.blackmagicdesign.com/support.
© 2001-2023 Blackmagic Design Pty. Ltd. All rights reserved. Blackmagic Design, Blackmagic, DeckLink, Multibridge, Intensity, H.264 Pro Recorder and "Leading the creative video revolution" are trademarks of Blackmagic Design Pty. Ltd., registered in the US and other countries. Adobe Premiere Pro, Adobe After Effects and Adobe Photoshop are registered trademarks of Adobe Systems. Avid Media Composer and Avid Pro Tools are registered trademarks of Avid. Apple Final Cut Pro, Apple Motion, and Apple Soundtrack Pro are registered trademarks of Apple Computer.
Updated on September 14, 2023
Supported codec details
The translation of this article is based on the translation from www.DeepL.com/Translator (free version) and has been partially revised.
#DaVinciResolve #DaVinciResolve