Question
When I open the project, I get a dialog saying "Upgrade Project Version? This project created in an older version of DaVince Resolve.Once you upgrade, it can only be opened using DaVinci Resolve 18.5 or newer version." Please tell me why.
Answer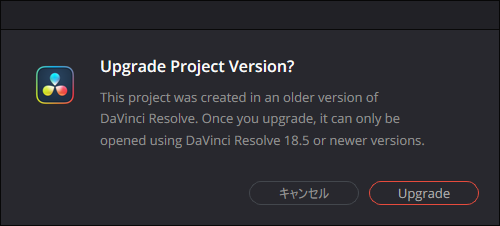 Appears when the project library database is compliant, but the project description in the database needs to be updated. Selecting "Upgrade" updates the project so that it cannot be opened in previous versions.
It is recommended to back up the project library (database) before updating the project library.
In addition, in the Japanese translation
Upgrade project version?
This is a project created with an older version of DaVince Resolve. Once upgraded, it will open in DaVInci Resolve 18.5 or later.
becomes.