First update: 10/20 Last update: 12/22
It was released to the public on the AppStore on December 12, 2022.
A free version is provided, and a paid version is purchased from within the free version of the application.
The price of the paid version is 15,000 yen.

Supported hardware
iPad
Requires iPadOS 16.0 or later and a device with A12 Bionic chip or later.
iPad 8th generation or later
iPad mini 5th generation or later
iPad Air 3rd generation or later
12.9 inch iPad Pro 3rd generation or later
11-inch iPad Pro 1st generation or later
Each Wi-Fi + Cellular model is also supported.
Recommended for use with Apple iPad Pro M1 or later models. Earlier iPads may be limited to HD. Also, some features may be limited due to memory limitations.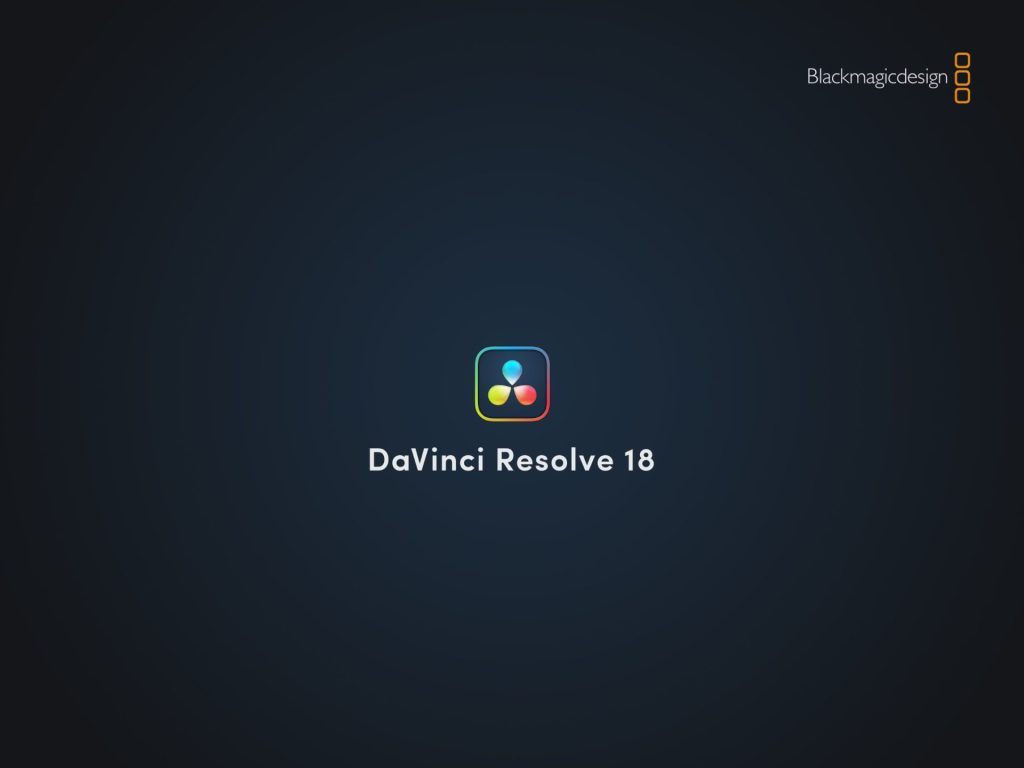 I was able to install it on my iPad (9th generation).
The following notice is displayed at startup: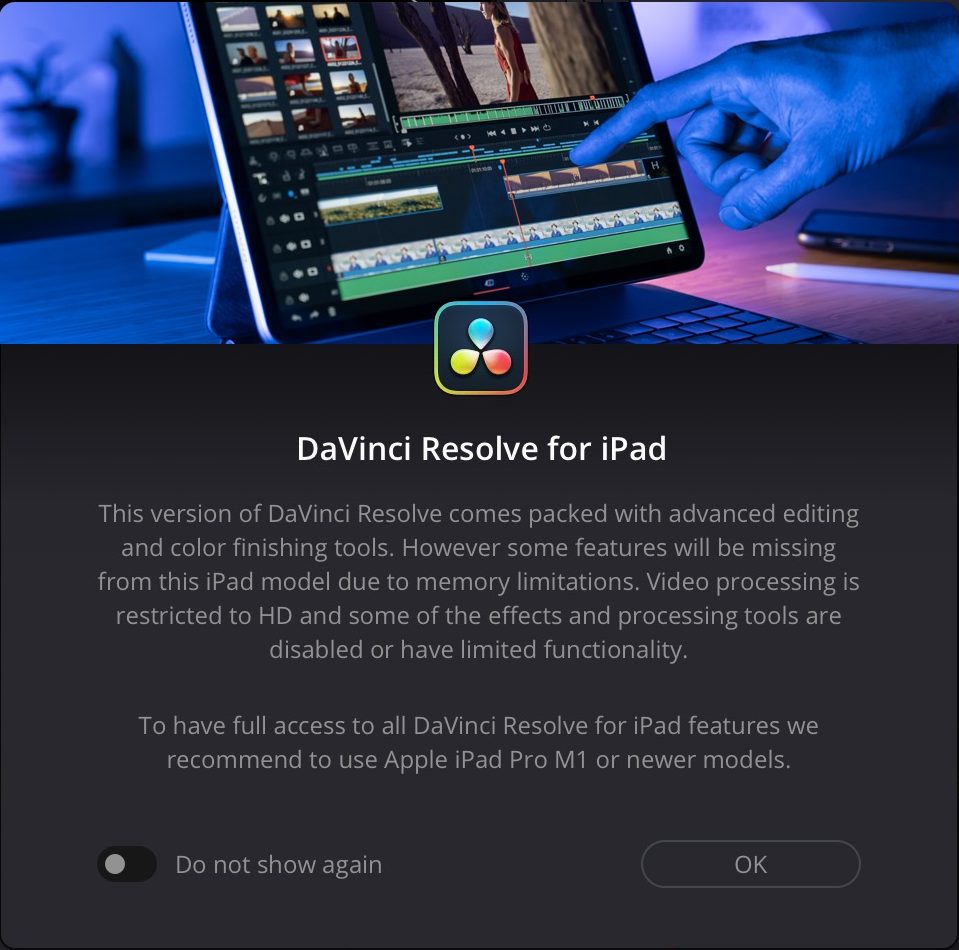 When you touch a function that requires a paid version, the following menu will be displayed.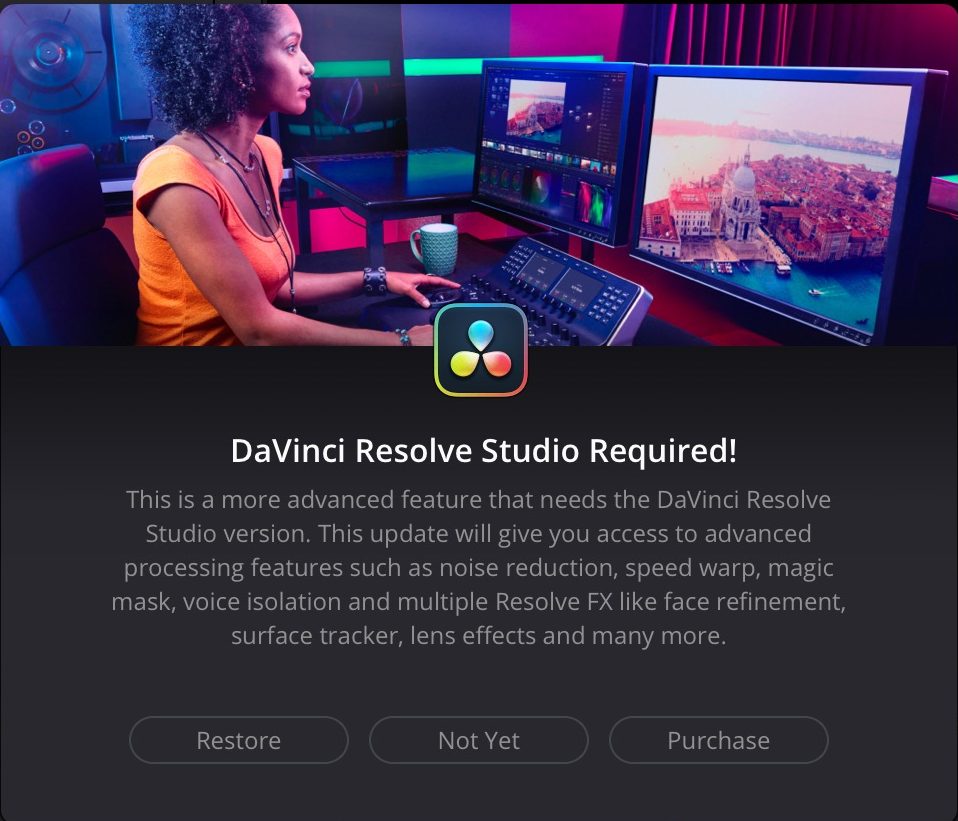 If you select Restore when you haven't made a purchase, you will be informed that no purchases have been found.
Perhaps after purchasing DaVinci Resolve Studio (for iPad), you can upgrade here.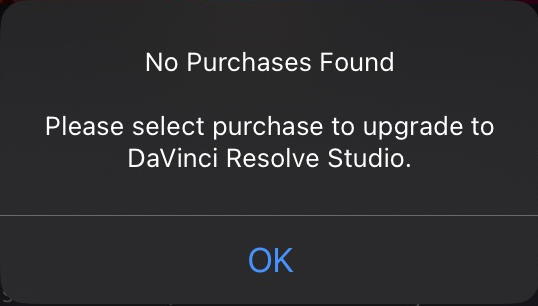 Select Purchase to display the purchase screen. It is 15,000 yen (as of 2022/12/22).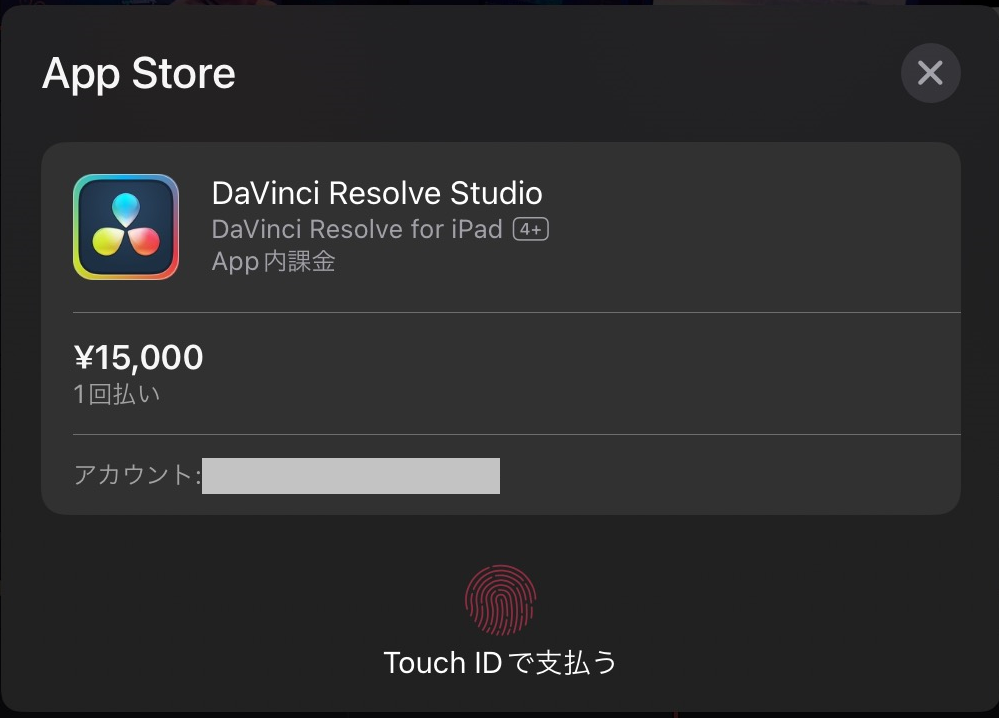 (Regarding major changes from the first report, we have corrected/corrected them so that the original content can be understood.)
An actual device running DaVinci Resolve for iPad was unveiled to the world for the first time at Inter BEE 2022 held in Makuhari from November 16th to 18th, 2022!
(Held on 11/3 "Culture Day Special Event DaVinci Resolve 18 Free Online Training ~Introduction to Fusion~" is the information obtained. )
As previously rumored, DaVinci Resolve will now work on the iPad.
As with PC, two versions, a free version and a paid version, will be prepared. Of course, buy out. Scheduled for US$95.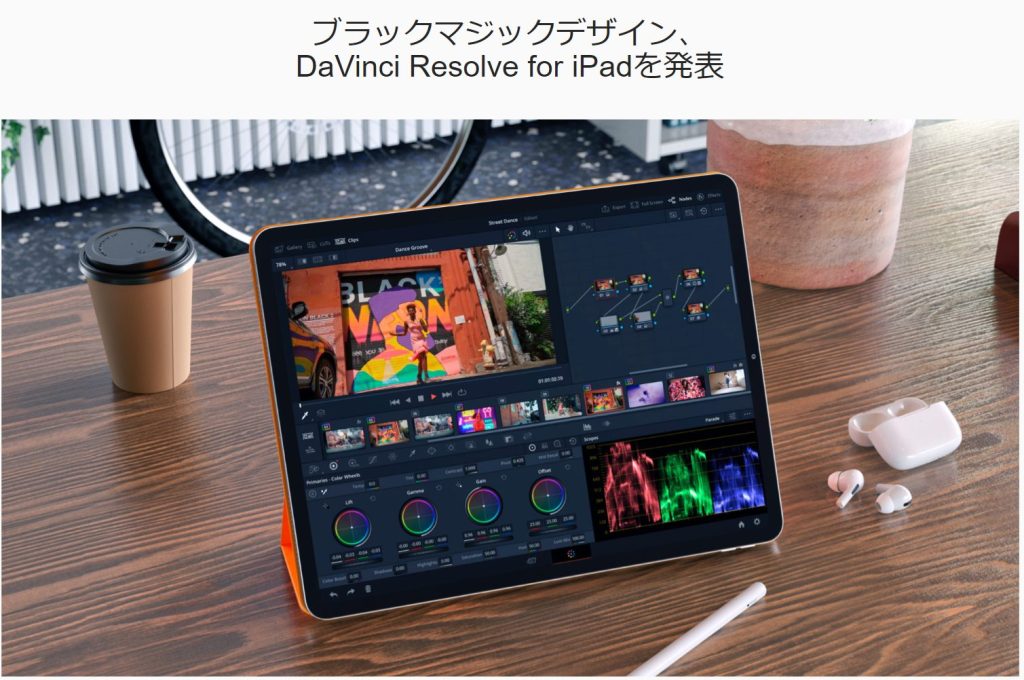 It will be supported from iPadOS 16. Since iPadOS is said to be available on October 25, 2022 , it seems that DaVinci Resolve for iPad will be released at the same time. However, DaVinci Resolve for iPad will be available for free download from Apple's App Store from the end of 2022.
The reason why this information first appeared in the world was that there was a string of "DaVinci Resolve for iPad" in the introduction image of iPad Pro announced on October 19, 2022.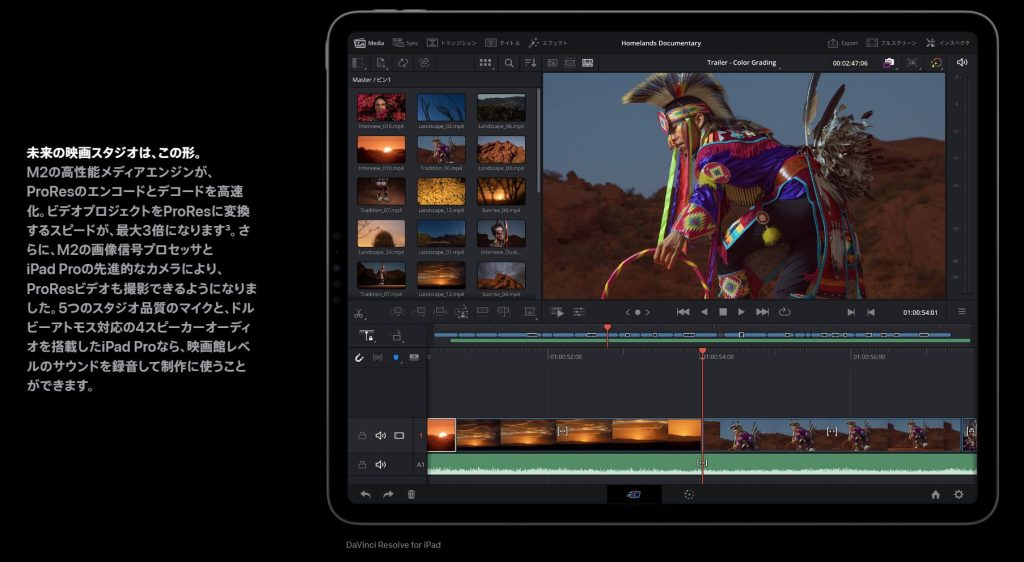 From the images, only the cut page and the color page were confirmed, and attention was paid to future developments, but the next day, on the official Facebook page, Fusion and Fairlight are planning to deal with them in the future, and editing is not planned. If not, the information will be updated.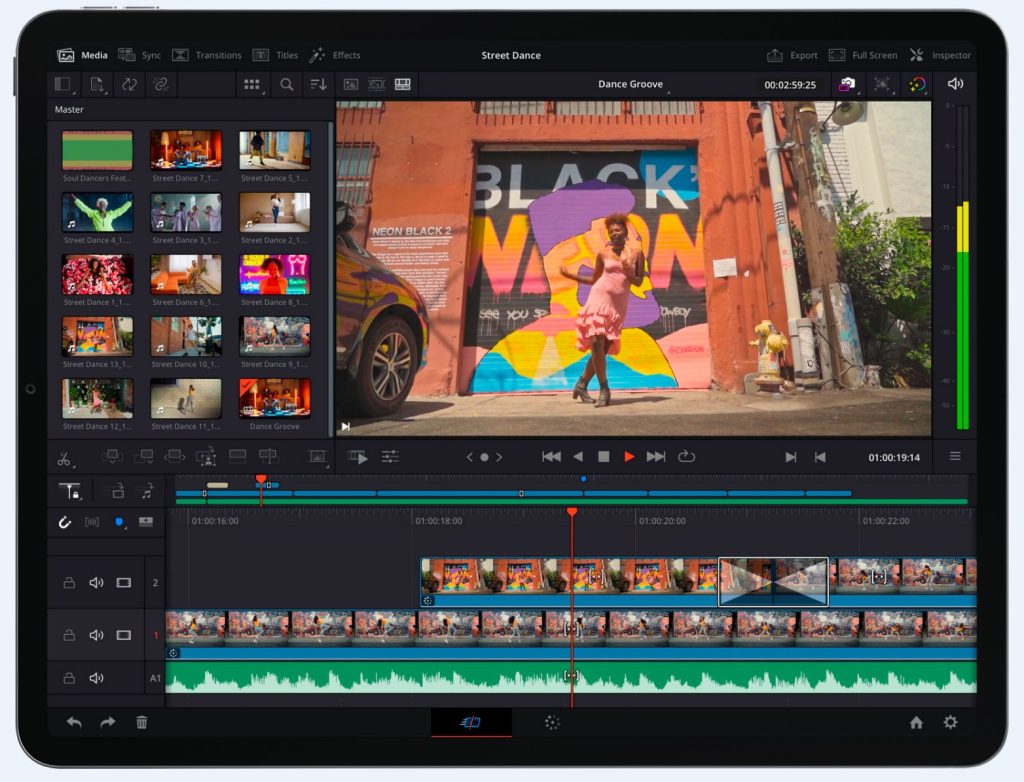 Looking at the timeline, of course, the transitions have been set, and there is also a sync bin icon and an inspector menu, so it seems that the cut page has almost full specs.
The dual timeline, which can be said to be the biggest feature of the cut page, is the best UI for touch operation. In the future, I feel the future to imitate other editing software.
SpeedEditor is also supported, so there is a trend for people who have experienced DaVinci Resolve for the first time with DaVinci Resolve for iPad to purchase SpeedEditor and start full-scale editing with DaVinci Resolv on a PC with the DaVinci Resolve Studio license that comes with SpeedEditor. that's right.
(I remember that on the cut page, after placing clips on the timeline, it was not possible to separate the sound and video. If that point alone is not improved, it may be difficult to use the sound.)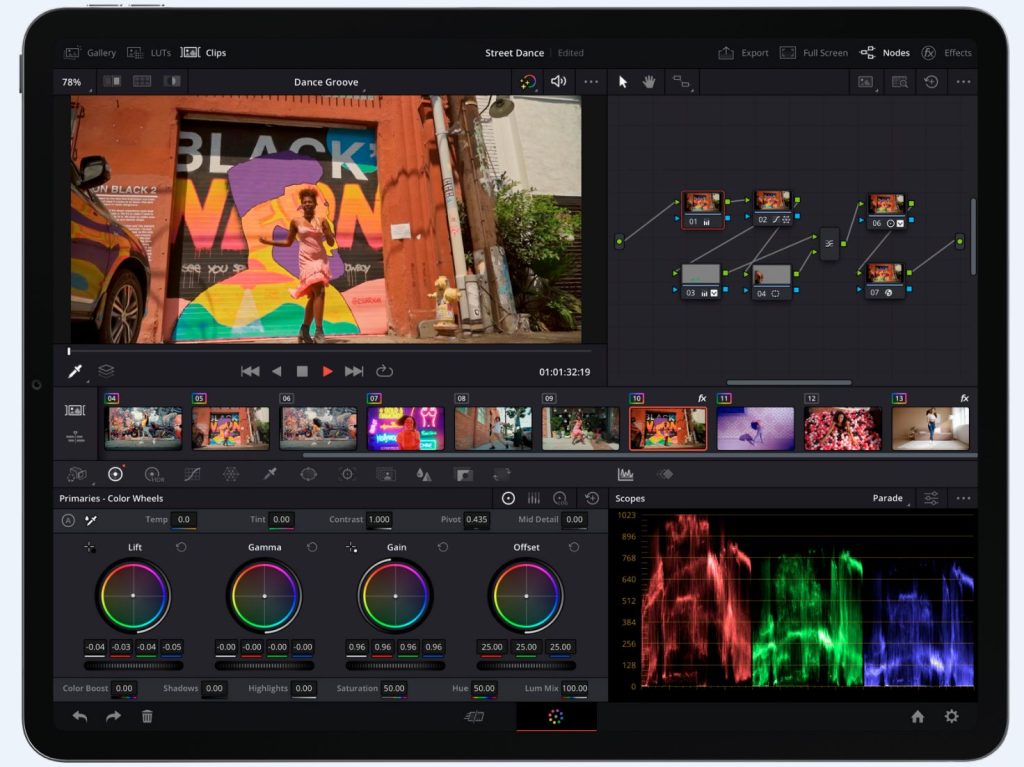 The color page seems to be the same as the Macbook Air with low pseudo-resolution that can not display three palettes, scopes or keyframes side by side at the bottom of the color page. I would be happy if I could arrange three in a future version upgrade. (In addition, I plan to write an article later on how to arrange three Macbook Airs with low pseudo resolution.)

You can see the "Fx" icon in the node of the color page, so it seems that there is a function close to full specs here as well.
Of course, operation with Apple Pencil is also supported, so I'm wondering how easy it will be to edit.
If I bring the pen tip closer to the color wheel and the display is magnified, I feel that it will be easier to perform delicate operations. Would you like to respond? (Furthermore, by linking with Makbook, I wonder if it can be used as a simple mini panel or micro panel.)
In addition, when saving materials on an external SSD of USB Type-C and editing on an iPad, connect the external SSD with USB Type-C and edit. The project library can be shared between the PC and iPad via Blackmagic Cloud, and when editing on the PC, it is possible to connect an external SSD to the PC and continue editing.
Furthermore, it seems that a function to create a proxy is also included, so connect the iPad and an external SSD with USB Type-C, first create a proxy, save it on the iPad, and remove the external SSD. . And if you proceed with editing with proxy data, you can edit without connecting an external SSD while avoiding the problem of data capacity. It looks like it's going to be the point of.
Is this the reason for aligning Blackmagic Cloud and Proxy Generator offerings with 18? I also think.
Are you concerned about the future support for "fonts" and "plugins"?
I haven't checked it on the actual device, but according to my research, it seems that the method of adding fonts to the iPad can be done by adding from the App Store App or by using an app called "AnyFont". However, for plug-ins, the plug-in software must be compatible with the iPad, so in many cases, it seems that it cannot be supported at this time.
I'm curious about how the Fairlight page, which often uses plugins, will handle it in the future.
I'm also curious about the support for the iPad equipped with the M1 It is also planned to be supported. There is also the possibility of support from M2 with a media engine. It is said that it is optimized for M2, but it is nice to support it for M1 as well.
As of 10/21, the official information is summarized as follows. I believe there will be more updates in the future. We will update from time to time.
DaVinci Resolve for iPad Features
Cut pages are for editing. The color page is optimized for the 12.9-inch iPad Pro display.
Ultra HD ProRes rendering performance is up to 4x faster on iPads with M2 chips.
DaVinci Resolve Studio for iPad supports Apple Neural Engine.
Compatible with DaVinci Resolve 18 project files.
Supports multi-user collaboration via Blackmagic Cloud.
Support for H.264, H.265, ProRes and Blackmagic RAW media files.
Supports iPad storage, photo library and iCloud clips.
Loading clips from external USB-C disks.
Works with Apple Pencil, Magic Trackpad, Magic Keyboard, and Smart Keyboard Folio.
External monitoring via Apple Studio Display, Pro Display XDR and AirPlay displays.
The 12.9-inch iPad Pro with M1 chip supports HDR.
Compatible with iPadOS 16 and later.
We look forward to future developments.
#DaVinciResolve