Question
What are the settings and precautions for creating OBS transitions with DaVinci Resolve?
Answer
You can easily create your own transitions that can be used with OBS.
Despite its name, it's nothing special. If you keep the following three points in mind, there is no problem with recognizing the video that comes in when switching OBS scenes.
The transition created between scene A and scene B will be played. Since scene A and scene B will be switched while the transition is played in front, the transition you create must be a video that covers the entire screen for a moment.
Create videos with the following three points in mind:
1. Create a transparent (partially no background) video on the cut page or edit page, etc. 2.
Make the video to cover the entire moment for a moment
3. On the render page, the image is surrounded by red Render after setting the
Format: QuickTime (supports transparency)
Codec: Grass Valley (supports transparency)
Type: HQX (Other than HQX, a light green filter will appear on OBS)
Export alpha: checked (supports transparency)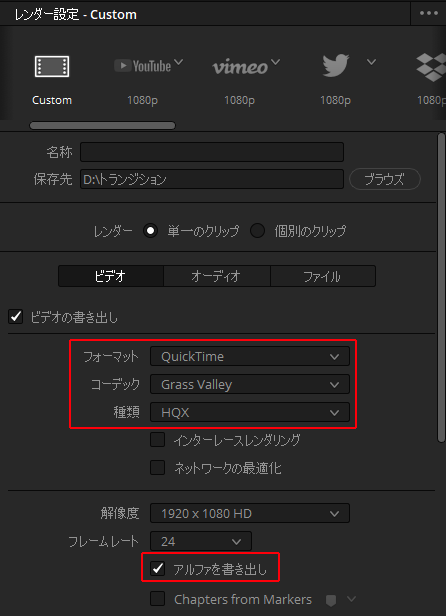 Select "Media Source" in OBS "Source" and set the exported file.
In the case of "VLC Video Source", it may not be displayed due to problems with VLC's supported codecs.