Question
What's new in DaVinci Resolve 17.4, released on October 23, 2021?
Answer
Now available from the support site.
Focus
I think that the features that attract attention vary from person to person depending on the usage situation, but I pay attention to the following contents.
Optimization for Apple M1Pro and M1Max
Dropbox compatible
Even the Windows free version supports H.265 hardware encoding installed in GPUs and Intel CPUs

Various functions of Text+ have been improved

, vertical writing (vertical layout) is supported!
Supports automatic color management with color spaces & conversions
Although not listed as a new feature by the manufacturer, enhancements related to display size and layout correction when windows are moved between monitors with different display scales have also been confirmed. I think there are quite a few people who are happy.
New function explanation video
Official video explanation. (English)
Summary of new features
The following 8 points are listed in the function summary displayed immediately after installing the new version.
Performance optimized for M1
Simplify color management
Enhanced 3D keyer
Supports Steinberg VST3
YOUTUBE VIDEO CHAPTER
New Resolve FX plugin
Rich text + support
Improved subtitles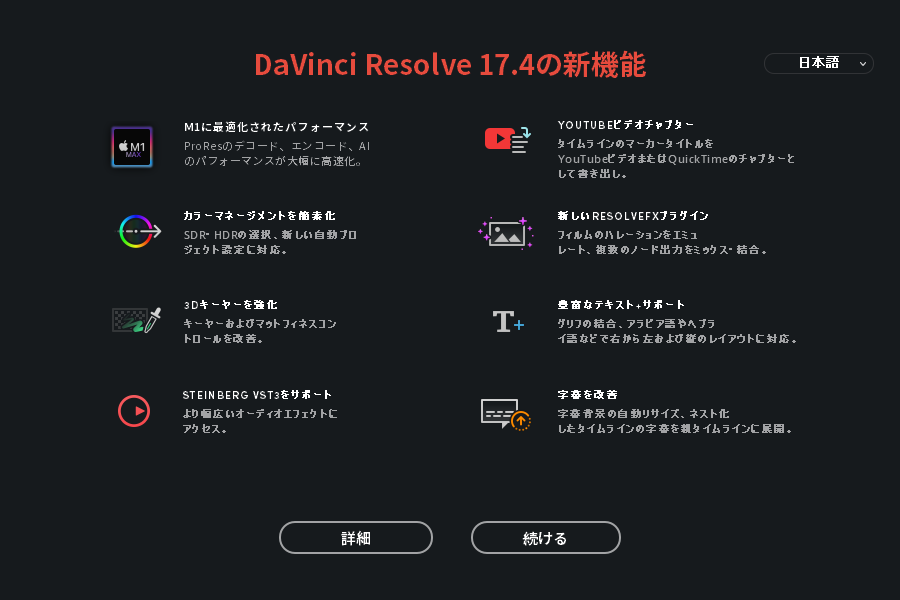 Details of new features
The update contents are as follows.
This is a quote from the press release.
Main function
Hardware accelerated Apple ProRes on Apple M1 Pro/M1 Max.
Supports 120Hz on Apple M1 Pro/M1 Max. Smoother UI and playback.
Faster DaVinci Neural Engine performance on Mac OS 12.
Native HDR viewer (supported Mac hardware only).
Synchronize comments and annotations between Dropbox Replay and DaVinci Resolve Studio.
Sync markers and comments between Dropbox and DaVinci Resolve Studio.
Export timeline markers as YouTube videos or Quicktime chapters.
Supports Steinberg VST3. Wider range of audio effects available.
Simplified color management, SDR/HDR selection and new automatic project settings.
Added new ResolveFX such as film halation.
Improved 3D keyer and matte finesse controls.
Text+Tool now supports joining glyphs, vertical layout, and right-to-left layouts such as Arabic and Hebrew.
M1's ProRes decoding and encoding, significantly faster AI performance.
Auto-resize subtitle backgrounds, expand nested timeline subtitles to parent timeline.
Support for Apple M1 Pro/M1 Max
Hardware accelerated Apple ProRes on Apple M1 Pro/M1 Max.
Supports 120Hz on Apple M1 Pro/M1 Max. Smoother UI and playback.
Faster DaVinci Neural Engine performance on Mac OS 12.
Native HDR viewer (supported Mac hardware only).
Mac's native fullscreen mode.
Dropbox comment integration
Log in to Dropbox in DaVinci Resolve preferences.
Render directly to Dropbox or Dropbox Replay.
Automatic background upload when rendering is complete.
Synchronize comments and annotations between Dropbox Replay and DaVinci Resolve Studio.
Sync markers and comments between Dropbox and DaVinci Resolve Studio.
edit
Subtitles and caption backgrounds automatically resize to fit the text content.
Subtitle tracks from nested timelines can be expanded into the main timeline.
Auto focus on text area when adding new subtitle captions.
Simple titles and subtitles are faster on systems with Apple silicon.
Improved the function of the curve related to the position in the timeline, and the ease-in and ease-out function is improved.
Options to include effects and grading in render-in-place processing.
Switching between multicam angles using the Speed ​​Editor on the edit page.
Mark function to select gaps in the timeline.
Editing asymmetric audio transitions created on the Fairlight page.
Asymmetrically trim video and audio transitions using Command/Control keys.
Fine-tune the gain of an audio clip by holding Shift and dragging the mouse.
Paste retime attributes to audio clips.
Option to limit audio sync to first timecode match.
Preview each mode by hovering over the blending mode in the inspector.
Deinterlacing quality can be set per clip in the inspector.
New quadrilateral eye list transition.
Supports custom aspect ratio control for shape transitions.
Improved overlay for Fusion tools in the viewer.
Improved undo for Fusion effects and Text+ in inspector.
Ability to organize effect templates based on folders.
Customizable keyboard shortcuts to move to previous/next timeline tab.
Ability to close timeline tabs with middle click.
Preview generators and titles in the Effects panel in the cut page viewer.
Color
Support for automatic mode in color management projects.
Support for ACES 1.3, gamut compression and new CSC transforms.
New 3D keyer supports new modes and live feedback for improved selection/strokes.
Improved HSL/luminance keyer and updated matte finesse controls.
Single action forward/reverse tracking with Tracker and Magic Mask.
When LUTs and effects are applied, the type is displayed in the node's tooltip.
Automatically create node inputs when dragging new links to layers and key mixers.
Connect the key and RGB by dragging the color node and overlaying it on the link of the key.
Separate primary and secondary tool icons have been added for quick switching.
Search for timeline clips that have been Dolby Vision analyzed or trimmed.
Disabled clips are grayed out in the timeline.
Apply camera LUTs and CDLs to ARRI MXF ProRes clips.
Maintain printer light state after reboot.
Automatically scroll to center marker when navigating timeline markers.
Resolve FX
Film Halation emulates the reflections and scattering of film stock (Studio version).
Custom mixer for more precise control over combining effects and grades.
Improved 3D, HSL and Luminance keyers in Edit and Fusion pages.
Improved noise handling and key tweaking for existing keyers.
Improved patch replacer to align source and target.
Film grain now supports interactive preview and grain freeze.
Fairlight
Support for Steinberg VST3 audio plugins on Mac OS and Windows.
Rearrange, move, and duplicate effects in the Mixer.
Copy clip range with partial fade.
Show single-sided audio transitions as fades.
Support for multi-channel audio output on Linux.
Improved display of waveforms with low track heights and low zoom levels.
Shift-click or Command-click in the timeline to select keyframes.
When navigating to the previous/next timeline marker, select that marker.
Improved default processing order in Fairlight mixer.
Automation curves show current values ​​when no automation is present.
Blinks when a point is selected in edit select mode.
Improved clip index column order and search behavior.
Improved jog, scroll and shuttle in Editor Keyboard and Speed ​​Editor.
FairlightFX meters now have resizable display support and improved channel labels.
Improved audio performance when using Blackmagic monitoring devices.
Fusion
Support for combined glyphs and right-to-left language layout in Text+.
Improved vertical text + layout, vertical glyphs, rotation and line direction.
Improved text+ character grouping, spacing, underline and border functionality.
Text+ now supports per-character styling for supported fonts.
Text+ now supports OpenType features such as old glyph numbers.
Several text styling and animation improvements in Text+.
Display tool description and add tool window when hovering over effect panel.
Improved tracker default search and grid warp pattern size.
Added search area scale slider to tracker options.
Codec and file I/O
Improved encoding settings for YouTube render presets.
Option to export timeline marker colors as chapters in YouTube videos.
Option to export timeline marker colors as QuickTime chapter markers.
Support for decoding Opus audio in QuickTime and MP4 clips.
Panasonic 8K AVC decoding with hardware acceleration on Apple silicon.
Faster decoding of ARRI ARX clips.
H.265 encoding with Windows hardware acceleration (free version).
H.264 encoding profile option (DaVinci Resolve Studio) on supported Nvidia systems.
Bitrate control for H.264/H.265 encoding on supported Intel-based Windows systems.
Faster encoding and decoding on Intel-based Windows systems (DaVinci Resolve Studio).
Supports encoding to ZIP1 EXR format.
Ability to add custom languages ​​to DCP/IMF composition naming options.
A list of approved operators/ratings/regions can be used to name DCPs.
Marker support in IO Encode Plugin SDK.
Ability to bypass re-encoding for Sony XAVC Intra clips.
Better preservation of comment metadata in third-party XML workflows.
Improved rendering of render job names in tooltips.
whole
Right-click the audio icon to adjust media volume on the media page, color page, and deliver page.
Automatic identification of media storage sequence image formats as stills or clips.
Confirm whether to overwrite the existing project when executing "Save As".
Show locked projects in PostgreSQL database and usage information tooltips.
Clone PostgreSQL database in Project Manager.
Export PostgreSQL database in project manager.
Import option to current timeline when importing AAF.
Support for accessing video clip inspector properties in the scripting API.
Support for setting the playhead position of the timeline in the scripting API.
Support for getting color versions of video clips in scripting API.
Support reflection of upload status of render job API in script API.
Support for setting network optimization for render jobs in the scripting API.
Support for Mac OS H.264 multi-pass encoding option in scripting API.
Improved script property set when querying media input nodes.
Improved overall performance and stability
Minimum system requirements for macOS
macOS 10.15 Catalina
8GB system memory. 16GB when using Fusion
Blackmagic Design Desktop Video version 12.0 or higher
Integrated or discrete GPU with at least 2GB of VRAM.
A GPU that supports Metal or OpenCL1.2.
Windows minimum system requirements
Windows 10 Creators Update.
16GB system memory. 32GB when using Fusion
Blackmagic Design Desktop Video 10.4.1 or newer
Integrated or discrete GPU with at least 2GB of VRAM
GPU that supports OpenCL1.2 or CUDA11
NVIDIA/AMD/Intel GPU driver version – as required by your GPU